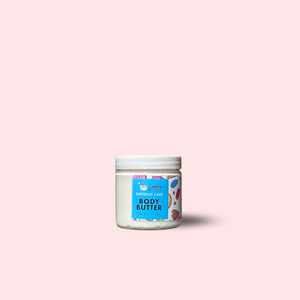 Birthday Cake Body Butter
Regular price
Sale price
$12.00
---
Everyday should be celebrated like its your BIRTHDAY! 
Celebrate your skin with our scrumptious Birthday Cake Body Butter! Enriched with the irresistible scent of vanilla cake and the nourishing properties of shea butter, cocoa butter and mango butter, this indulgent body butter is the perfect way to pamper yourself on your special day (or any day!). The rich and creamy texture melts into your skin, providing deep hydration and leaving it feeling soft, supple, and oh-so-smooth. The delightful aroma of freshly baked birthday cake will evoke memories of joyful celebrations, making you feel extra special. Our Birthday Cake Body Butter is also infused with essential vitamins and antioxidants to nourish and protect your skin, leaving it with a healthy, radiant glow. Treat yourself or a loved one to the gift of luxurious self-care with our Birthday Cake Body Butter, and let your skin revel in the sweet and delightful scent of birthday bliss!
Vegan, All Natural, Cruelty Free
Our body butter is handmade in small batches in our Long Island, NY kitchen. 
Approx 4oz or 8oz PET recyclable containers. Perfect to reuse for organizing the kitchen junk draw when finished!
How to use: Get naked, scoop, smooth, moisturize, repeat, but please do not eat!
We recommend using body butter after bathing and can be paired with our Birthday Cake whipped soap!
Blended with ingredients (you can pronounce) from the Kitchen: Distilled Water, Safflower Oil, Cocoa Butter, Rice Bran Oil, Mango Butter, Shea Butter, Emulsifying Wax (vegetable based), Stearic Acid (naturally derived from plants and vegetables), Mica, Fragrance Oil, Mica, Germall Plus (preservative)
*Body Butters are made with distilled water. While we do everything we can to protect your container from getting yucky (by adding preservatives), please try and avoid getting water in the container. Sink water contains minerals that may impact and cause unwanted fuzzies to grow in your container.*