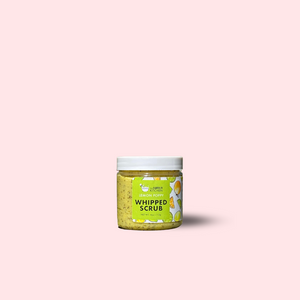 Lemon Poppy Whipped Body Scrub
Regular price
Sale price
$14.00
---
Brighten up your skin and senses with our zesty Lemon Poppy Whipped Body Scrub! Made with the refreshing scent of tangy lemons and the gentle exfoliating power of poppy seeds, this invigorating body scrub is a delightful addition to your skincare routine. Our whipped formula glides effortlessly onto your skin, effectively removing dead skin cells and revealing a smoother, brighter complexion. The uplifting aroma of freshly squeezed lemons will awaken your senses and leave you feeling refreshed and revitalized. Enriched with nourishing ingredients like avocado oil and rice bran oil, our Lemon Poppy Whipped Body Scrub also helps to moisturize and hydrate your skin, leaving it feeling soft, smooth, and deeply nourished. The natural poppy seeds provide gentle exfoliation, promoting healthy circulation and leaving your skin looking radiant and renewed. Perfect for use in the shower or bath, our Lemon Poppy Whipped Body Scrub will invigorate your skin and awaken your senses, leaving you feeling refreshed and revitalized. Treat yourself to this zesty and invigorating body scrub and indulge in the uplifting scent of lemon while revealing smoother, glowing skin!
Vegan, All Natural, Cruelty Free
Our whipped body scrubs is handmade in small batches in our Long Island, NY kitchen. 
Approx 4oz or 8oz PET recyclable containers. Perfect to reuse for organizing the kitchen junk draw when finished!
How to use: Get naked, scoop, scrub, rinse, repeat, but please do not eat!
Body scrubs can be use with or without loofah / washcloth, and act as a scrub and body wash 2 in 1. We recommend using an exfoliant up to 3 times a week for glowing, smooth skin.
Blended with ingredients (you can pronounce) from the Kitchen: Sodium Cocoyl Isethionate, Sucrose (sugar), Vegetable Glycerin, Cocamidopropyl Betaine, Distilled Water, Rice Bran Oil, Avocado Oil, Stearic Acid (derived from plants and vegetables), Fragrance Oil, Mica, Poppy Seeds, Optiphen (preservative)
*Body scrubs are made with distilled water. While we do everything we can to protect your container from getting yucky (by adding preservatives), please try and avoid getting water in the container. Sink water contains minerals that may impact and cause unwanted fuzzies to grow in your container.*
---